Which Color of the Color TV is More Important?
By HUNG Chao-Kuei on Tuesday, August 14 2007, 10:18 - Permalink
Just saw this article and feel like sharing my 2 cents for those confused by this "dispute". As a long time FS advocate, I have also been asked quite a few times, "What's the distinction between free software and open source?" To this question I had written an article: The dispute(?) between "open" and "free" back in 2001, in Traditional Chinese.
First of all, it's not a dispute between software licenses by and large. This is clearly depicted in the software category diagram (which I contributed to FSF :-) ). I am not ashamed of admitting, after 10 years of FS advocacy, that I cannot give, and don't care to figure out, examples of FS which are not OSS, nor those of OSS which are not FS.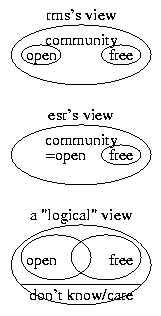 It's a dispute between the use of different names to refer to the same thing, and the different choices arise from different strategies of advocating this thing. Readers interested in the history are referred to RMS's article and ESR's article.
So are there really two movements? RMS says yes, while ESR says FS is part of OSS. However, it is more logical to hypothesize a combination of 2x2+1 stances on this matter if you ask anyone in the community to which movement she belongs, as shown in the picture here. And if you ask me, I probably belong to the fifth "don't know/care" group. But I am not quite sure this picture describes the world very well, even though it's already more comprehensive than both RMS and ESR's views because theirs are just degenerate cases of my picture :-) .
I am better prepared to answer another question, the one asked in the article mentioned at the beginning, "Which is more important, sharing code or empowering users?". Or is it fun, may I add? To this question I would pose another question as an answer: "Which color is more important for a color TV to be better than a black-and-white TV? Red, green, or blue?" So you get my point. People choose to support the FLOSS (Free/Libre/Open Source) movement for a combination of various reasons. Some may be more interested in the practical aspect, while others may be more interested in the freedom aspect. But it really is difficult (and probably meaningless) to pick one reason and declare that it is this single reason that makes FLOSS beat proprietary software, just as it is difficult to identify a single color that makes a color TV better than a black-and-white TV.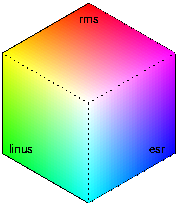 The FLOSS world is colorful and continuous, not dichotomous. (Well, let's not get into quantumn mechanics please.) Let's paint and not fight. Let's work in each of our own way to save the poor souls in the dark empire of Microsoft by showing them rainbow and painting nice colors into their computing lives!