Concepts of Object Orientation
Last updated: Mar. 01, 2006
---
Objectives:
Explain the basic principles of object orientation

Define the basic concepts and terms of object orientation and the associated UML notation
Why Model?
Modeling achieves four aims:

Helps you to visualize a system as you want it to be.

Permits you to specify the structure or behavior of a system.

Gives you a template that guides you in constructing a system.

Documents the decisions you have made.

You build models of complex systems because you cannot comprehend such a system in its entirety.

You build models to better understand the system you are developing.
Four Principles of Modeling:
The model you create influences how the problem is attacked.

Every model may be expressed at different levels of precision.

The best models are connected to reality.

No single model is sufficient.
Basic Principles of Object Orientation:
Abstraction

Encapsulation

Modularity

Hierarchy
Example of Abstraction:
A student is a person enrolled in classes at the university.

A professor is a person teaching classes at the university.

A course is a class offered by the university.

A course offering is a specific offering for a course, including days of the week and times.
Encapsulation Illustrated:
The key to encapsulation is an object's message interface. The object interface ensures that all communication with the object takes place through a set of predefined operations. Data inside the object is only accessible by the object's operations. No other object can reach inside of the object and change its attribute value.

Professor Clark needs to be able to teach four classes in the next semester.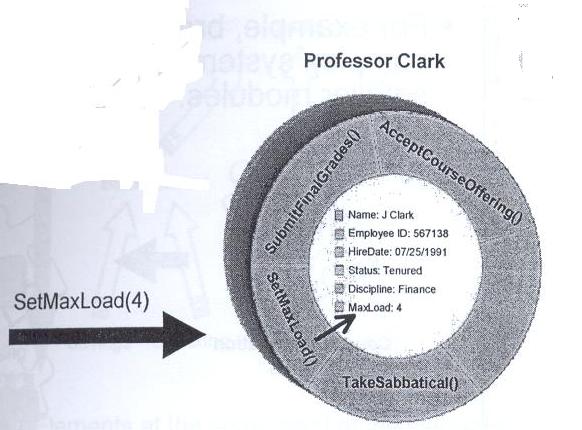 Example of Modularity:
Often, the system under development is too complex to understand. To further understanding, the system is broken into smaller blocks that are each maintained independently. Breaking down a system in this way is called modularity. It is critical for understanding a complex system.

Break Course Registration system into three modular systems:
Example of Hierarchy:
Hierarchy can be defined as: Any ranking or ordering of abstractions into a tree-like structure.

Elements at the same level of the hierarchy should be at the same level of abstraction.
What Is an Object?
What Is a Class?
A class is a description of a set of objects that share the same attributes, operations, relationships, and semantics.

A class is an abstraction in that it

Emphasizes relevant characteristics.

Suppresses other characteristics.

Attribute: A named property of a class that describes the range of values that instances of the property may hold.

Operation: A service that can be requested from an object to effect behavior. An operation has a signature, which may restrict the actual parameters that are possible.
Representing Classes in the UML:
The Relationship Between Classes and Objects:
A class is an abstract definition of an object.

It defines the structure and behavior of each object in the class.

It serves as a template for creating objects.

Classes are not collections of objects.
Class Relationships:
Class Relationships: The semantic connection between classes.

class diagrams may contain the following relationships:
What is Navigability?
The navigability property on a role indicates that it is possible to navigate from a associating class to the target class using the association.

Navigability is indicated by an open arrow placed on the target end of the association line next to the target class (the one being navigated to).

When no arrowheads are shown, the association is assumed to be navigable in both directions.

Course registration example:

A Schedule must know the Course Offering assigned to the Schedule, and the Course Offering must know the Schedules it has been placed in.

The Registration Controller must know its Schedules, but the Schedules have no knowledge of the Registration Controllers (or other classes).
What IS an Association?
What Is Multiplicity?
Multiplicity is the number of instances one class relates to ONE instance of another class.

For each association, there are two multiplicity decisions to make, one for each end of the association.

For each instance of Professor, many Course Offerings may be taught.

For each instance of Course Offering, there may be either one or zero Professor as the instructor.
| | |
| --- | --- |
| Unspecified | ¡@ |
| Exactly One | 1 |
| Zero or More | 0..* |
| Zero or More | * |
| One or More | 1..* |
| Zero or One (optional scalar role) | 0..1 |
| Specified Range | 2..4 |
| Multiple, Disjoint Ranges | 2,4..6 |
What Is Aggregation?
An aggregation is a special form of association that models a whole-part relationship between an aggregate (the whole) and its parts.

An aggregation is an "Is a part-of" relationship.
A hollow diamond is attached to the end of an association path on the side of the aggregate (the whole) to indicate aggregation.
An aggregation relationship that has a multiplicity greater than one for the aggregate is called shared.
Destroying the aggregate does not necessarily destroy the parts.

Examples of aggregation: a library contains books, departments are made up of employees, a computer is composed of a number of devices. To model an aggregation, the aggregate (department) has an aggregation association to the its constituent parts (employee).
What Is Composition?
A composition is a stronger form of association in which the composite has sole responsibility for managing its parts ¢w such as their allocation and deallocation.
It is shown by a diamond filled adornment on the opposite end.
Example: If you got rid of the Student, you would get rid of any Schedules for that Student.
What is a Structured Class?
A structured class contains parts or roles that form its structure and realize its behavior

Describes the internal implementation structure

The parts themselves may also be structured classes

Allows hierarchical structure to permit a clear expression of multilevel models

A connector is used to represent an association in a particular context

Represents communications paths among parts

A role is a constituent element of a structured class that represents the appearance of an instance (or, possibly, set of instances) within the context defined by the structured class.
Structured Class Notation:

A part or role is shown by using the symbol for a class (a rectangle) with the syntax: rolename: Typename [multiplicity]
All three may be omitted

If multiplicity is omitted, it defaults to one.

A reference to an external object (one not owned by the enclosing object) is shown by a dashed rectangle.

Class Diagram versus Structure Diagram:
Example of Structure Diagram:
What Is Generalization?
¡@