Visual Modeling and the UML
Last updated: Mar. 8, 2006
---
Objectives:
After completing this module, you will be able to define visual modeling and discuss its benefits.

Describe the Unified Modeling Language (UML).

Name and describe the UML diagrams that can be modeled in Rational Rose.
What Is Visual Modeling?
In the world today, we have business processes and computer systems. As software professionals, our challenge lies in mapping the two.

That is where modeling comes in. Modeling involves capturing the important real world "things" and mapping these "things" to computer systems.

To do this, we need a method to show this mapping. This method is visual modeling. Modeling creates a blueprint for the system we want to build, using a standard language that is understood by all. This language is the UML, which is discussed later in this module.
Benefits of Visual Modeling:
Visual Modeling Manages Complexity:

In an actual development project, systems contain hundreds and even thousands of classes. Having one picture with 3000 classes pasted to a wall in a conference room is not very useful. We need a way to group these classes into meaningful collections.

Visual modeling includes the concept of a package, which is a group of things. By using packages, you can group modeling elements into meaningful collections, thus showing the model at different levels of abstraction to different groups of people.

Visual Modeling Promotes Reuse:

There are many forms of reuseówreusing a class, reusing a group of classes or a component, and applying a pattern. No matter the form of reuse used, you reuse more than the code. You reuse all the analysis, design, implementation, test, and documentation that was needed to build the original artifact.

Visual modeling allows you to see what is available from a reuse point of view to determine if, indeed, the artifact may be reused.
What Is the UML?
The UML is the standard language for visualizing, specifying, constructing, and documenting the artifacts of a software-intensive system.

The UML combines the best from

Data modeling

Business modeling

Object modeling

Component modeling

It is a standard language that may be understood by everyone dealing with the projectówcustomers, domain experts, analysts, designers, implementers, testers, trainers, and so on.

The UML may be used with any process. Although, it is generally assumed that the process is architecture centric, use-case driven, iterative, and incremental.
History of the UML:
In the late 1980s and early 1990s there were many different methodologies. Three of the more popular methods were the Booch method by Grady Booch, the OMT method by Jim Rumbaugh, and the OOSE method by Ivar Jacobson.

They spent until June 1996 maturing the Unified Method. In June, the .9 version was published. Here, the name officially changed to UML since it is a language NOT a methodology. It was also during this time that feedback was incorporated from their UML partnersówcompanies like Microsoft, Oracle, IBM to name a few.
UML Concepts:
Use-Case Diagram:
Activity Diagram:
An activity diagram shows the flow of events within our system.

The basic activity for a complete course registration process.
Sequence Diagram:
A scenario may be shown graphically in a sequence diagram. This diagram shows you step by step what must happen to accomplish a piece of functionality in the use case.

You start by identifying the objects in the scenario. Let's look at adding a student to a course offering. A student wants to take Math 101. The scenario is initiated by the student and needs four objectsówregistration form, registration manager, math 101, and section 1. Next, we identify the object interactions that must occur.
Question: How may sequence diagrams do you create?
Answer: As many as needed to understand the system. When you discover that you are not finding anything new about the system by adding another scenario, it's time to move on.
Collaboration Diagram:
A collaboration diagram is a different graphical view of a scenario. This type of diagram shows the objects and their links to one another.
Class Diagram:
Class diagrams are created to show the structure of the system. Class diagrams contain classes, relationships, and multiplicity indicators.
Statechart Diagram:
For classes that exhibit significant dynamic behavior, it is often necessary to examine their states. A statechart diagram looks at the lifecycle of a single class. A state is a condition that an object in the class may be in.
Example: Course Offering class
There are two special statesówa start state, the state an object is in when it is created and an end state, the state an object is in when it is destroyed.
There is only one start state, but there can be zero or more end states. Transitions show how to get from one state to another. A transition may have an event associated with it. There may also be an action associated with the transition.
Component Diagram:
The component diagram shows relationships between the components in the system.
A component may be a software component (for example, a .h file in C++ or a .Java file in Java), a run-time component (for example, a .DLL), or an executable component. The circles represent the interface to the component. This is often called lollipop notation. The dashed lines represent dependencies.
Deployment Diagram:
A deployment diagram visualizes the distribution of components across the enterprise.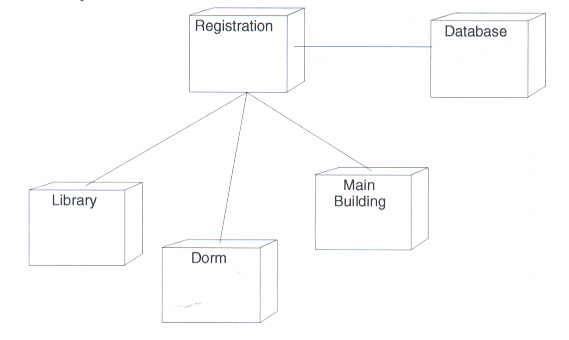 Extending the UML:
Stereotypes can be used to extend the UML notational elements.
Stereotypes may be used to classify and extend associations, inheritance relationships, classes, and components.
Examples:

Class stereotypes: interface, exception, server page
Association stereotypes: identifying, non-identifying
Dependency stereotypes: include, extend
Component stereotypes: subsystem

You can define stereotypes that have meaning for your applications.
In its simplest form, a stereotype is written as a name enclosed between a pair of guillemets (<< >>) above the UML notational element.
Summary:
Visual modeling

Captures business processes
Is a communication tool
Manages complexity
Promotes reuse

The UML is the standard langrage for visualizing, specifying, constructing, and documenting the artifacts of a software-intensive system.